Powerboard watercraft
For as long as there have been floating boards people have been doing crazy things on them in the water, and when they add motor power it becomes a powerboard.
As far as we know the first watercraft called Powerboard was an Australian invention from the late 1980s. It combined a sit on wave ski type of hull with outboard motor power to provide a wild and wet ride.
Now all motorised boards, sit, stand or lie on, outboard, inboard or water jet, are often referred to by the general term "powerboards".
The original aussie Powerboards were made of fiberglass in single and two seater models typically running 5 to 15hp outboard motors and could do 15 to 30 knots depending on the motor.
The motors were mounted in a floatation cowling to stop them getting dunked and were fixed in a straight ahead position.
Steering was by the rider leaning in the direction they wanted to go and with practice the boards were very manoeuvrable.
Powerboards were sold in many countries with local dealers or owners supplying the motors and there are still many active Powerboarders out there.
Note: we have managed to get hold of an original Powerboard promo film clip on video tape and will display it here as soon as it is converted to digital.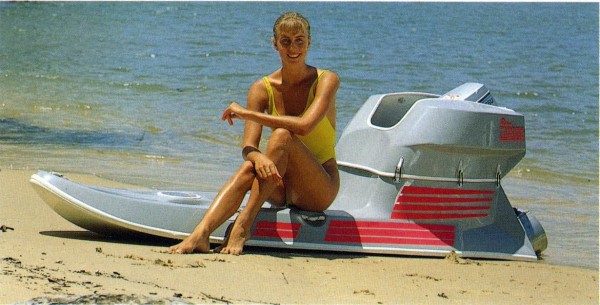 power board
,
powerboard
,
powerboard watercraft
power board
,
powerboard
,
powerboard watercraft
November 25, 2010 at 1:03 pm